Delicious Newcastle, Maine Dining 
The aroma of baking muffins, brewing coffee, and sizzling bacon at our bed and breakfast in Newcastle certainly gets you up and out of bed!
We proudly serve a special blend of Seacoast Coffee created just for Newcastle Inn. You will not find this coffee anywhere else! Help yourself to hot beverages, including a nice assortment of Mighty Leaf teas, at 7:30 a.m. in the dining room.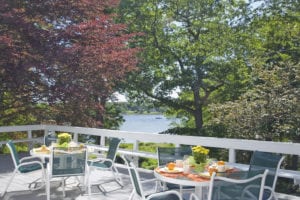 Breakfast is from 8 – 9:30 a.m. daily. You may eat in the dining room or on the back deck in the warm summer months. Sit at a table for two or perhaps get acquainted with other guests at a larger table.
Breakfast is made with the best ingredients possible and starts with a fruit course which is followed by a hot entrée, which changes daily and alternates between sweet and savory. Meat is always a side to the entrée so you may request it left off your plate. Accompanying your savory entrée you will enjoy a freshly baked muffin, sweet bread, or toast made from bread from the local baking company. If you don't want the entrée of the day there are other options are available including scrambled eggs, toast, granola, yogurt, oatmeal, and an assortment of cereals.
If you need to get an early start to your day because you are taking the boat to Monhegan Island, or need to get to the airport, we are happy to put a "breakfast to go" bag together for you. Please give 24-hour notice.