If you've never seen a puffin up close and personal, you're missing out on a great adventure. The adorable puffin is unique to the North Atlantic Ocean, and perhaps one of the most easily recognizable birds due to their colorfully striped beaks and pint-sized tuxedo bodies. But spotting a puffin requires knowing a bit about their breeding practices and natural habitats. Fortunately for guests of the Newcastle Inn, one of their preferred nesting spots during the April through August breeding season is right off the Maine mid-coast at Easter Egg Rock.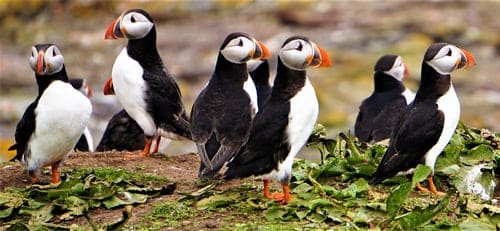 Easter Egg Rock (EER), located 6 miles out to sea, is a tiny island of just 7 acres, but a valuable asset to the once dwindling puffin population. Part of Project Puffin, an effort by the National Audubon Society to restore puffins to historic nesting grounds in the Gulf of Maine, at last count the island hosted 188 pairs of puffins.
One of the most visited islands for puffin spotting due to its proximity to shore, a trip to EER via tour boats does not disappoint. Audubon naturalists on board help with identifying the birds, and offer insight into their nesting and migration habits. Evening is the best times to take a cruise out to EER, as the puffins settle in from a day of feeding their young. A very social bird, they often linger on the rock at the end of the day, or raft together on top of the water before retiring to their nests.
Although puffins are the main draw, other birds can be found on the island as well. Bring binoculars to spot the rare and endangered Roseate Tern, a variety of gulls, gannets, and cormorants, and perhaps even a Rudy Turnstone or Razorbill. Hardy Boat Cruises offer daily trips in season from New Harbor and Cap'n Fish departs from Boothbay Harbor. In addition to the delightful antics of the puffins, you'll pass numerous lighthouses and off-shore islands while enjoying the evening light. You might even spot seals or an occasional whale
Although puffin colonies can be found on other sea islands along the coast, including Seal Island, Matinicus Rock, Machias Seal Island, and Petit Manan Island, EER is by far the most visited. For that reason, we suggest making a reservation well in advance of your visit. Come late August, the puffins migrate to their winter homes
To make the most of your puffin watch cruise, bring a hat, sunscreen, and sunglasses. Dress in layers, as evenings on the water can get cool in Maine. And don't forget the camera.
You can learn much more about these amazing birds by visiting the Project Puffin Visitor Center in Rockland, Maine. Check out their Wednesday night lectures in July and August, watch the 20-minute film "Project Puffin", and listen to the live-action sounds of puffin colonies from the remote Seal Island National Wildlife Refuge.
If you stay at the Newcastle Inn, you'll be close to all that makes mid-coast Maine so special, including our lovely puffin cruises.