"Believe me, my young friend, there is nothing – absolutely nothing – half so much worth doing as simply messing about in boats." – Kenneth Grahame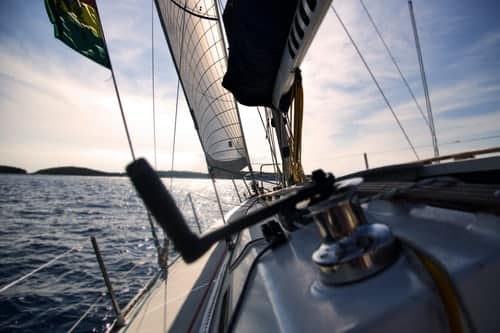 If you want to get out on the water in mid-coast Maine this summer, you won't lack for options. Exploring the rocky coastline, motoring up to historic lighthouses, learning to haul in lobster traps, or watching harbor seals bask in the sunshine defines the perfect day in mid-coast Maine. Whether you choose to venture out in a kayak, sailboat, motorboat, or onboard a ferry, a day at sea in Maine ranks as one of the most idyllic ways to while away a summer's day.
When you stay at the Newcastle Inn, you won't have to travel far to find a tour company or outfitter to fulfill your nautical dreams. Six tour companies within a 5 to 20- minute drive offer dozens of excursions to suit any mood.
Damariscotta River Cruises, Damariscotta
If you want to spend an hour or two on the Damariscotta River exploring marine wildlife and learning about oyster farming, then Damariscotta River Cruises has just what you need. You can sample the oysters on any voyage, but the Oyster & Wine or Beer Tasting cruise is sublime.
Hardy Boat Cruises, New Harbor Maine
Departing from the quaint fishing village of New Harbor, Maine, Hardy Boat Cruises specializes in eco-friendly puffin watch cruises to Egg Rock, a favorite hangout for these colorful marine birds. If puffins aren't your thing, Hardy also offers ferry service to Monhegan Island, and seal watch cruises, a fun for the whole family expedition.
MidCoast Kayak, Damariscotta
For fans of do-it-yourself paddling, MidCoast Kayak rents single or tandem recreational and sea kayaks, as well as stand-up paddle boards. Rent by the hour, half-day, full day, or weekly. Their half-day guided tours include a healthy snack while exploring the off-shore islands, coves, or bays.
Balmy Day Cruises, Boothbay
This tour company has it all. Take a one-hour harbor tour, a one and a half-hour sailing adventure, a daytrip to Monhegan Island, or book a private charter. Whatever you choose, you'll be in good hands. And if you really want to have some fun, book the Mackerel Fishing trip aboard the Miss Boothbay.
Cap'n Fish's Whale Watch, Boothbay
While Cap'n Fish's signature excursion takes passengers out on a seafaring adventure to sight whales, the company offers a complete menu of tours to suit all needs. From puffins to harbor seals, lighthouses to lobster traps, and any combination thereof, you can book the ideal trip for you and all your traveling companions with Cap'n Fish.
Cabbage Island Clambakes, Boothbay
This quintessential Maine experience should be on everyone's bucket list. Motor through picturesque Boothbay Harbor to your island destination for an authentic Downeast clambake. Feast on creamy fish chowder, boiled lobsters, and steamed clams, accompanied by corn on the cob and Maine potato, and finished with blueberry cake. How do you spell "yum"?!
River Run Tours, Bath
The River Runner, a uniquely designed pontoon boat, cruises the scenic rivers of mid-coast Maine. With multiple tours to choose from, you may find yourself gliding past the famous Bath Iron Works, sailing past lighthouses and marinas, or circling Arrowsic Island.
Book your stay at the Newcastle Inn, and start planning your summer adventures on the water in mid-coast Maine.