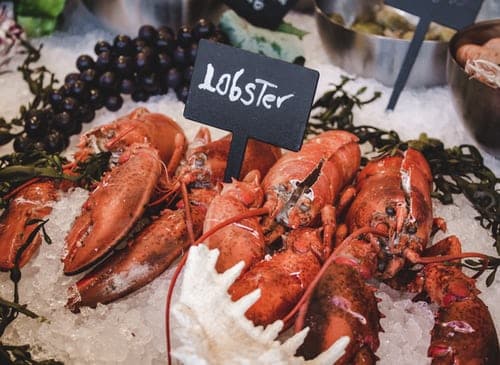 A trip to Maine's vacationland just isn't complete without eating Maine lobster at least once during your visit. Preferably, more than once. Lobster is one of those food items that people seem to either love or hate. But having an Inn near the water in Mid-coast Maine and being in the hospitality business, it is best to know a thing or two about lobster. So here, for the uninitiated, are a few interesting tidbits about Maine lobster that you can weave into conversation to impress your friends.
1. Lobsters, traditionally, are a mottled green when caught, but there are also rare blue, yellow, red, and white ones. All but the white ones turn red when cooked.
2. Lobsters can regenerate some of their body parts, including their claws, walking legs, and antennae. This can be especially helpful when faced with a life-threatening situation. They can simply discard an entrapped limb and escape more serious injury.
3. Lobsters increase in size by molting, which occurs about 25 times in the first 5 to 7 years of a lobster's life. When the time is right, they simply shed their outer shell and simultaneously absorb water to expand their body size.
4. After molting lobsters eat voraciously in an effort to replenish lost calcium and hasten the hardening of the new shell. No one really knows for sure, but many believe that lobsters can grow to be over 3 feet in length and live up to 100 years or more.
5. Female lobsters mate when in the soft-shell state, and depending on their size, can carry up to 100,000 eggs. For every 50,000 eggs laid, only 2 lobsters will likely survive to legal size.
One of the first questions many guests ask is where to go for the quintessential lobster experience. Most restaurants serve some variation of lobster, either steamed, baked-stuffed, in stew or en casserole. True purists, of course, prefer to eat lobster in the rough, or au natural, meaning as seemingly untouched as possible. Often this entails a seaside lobster pound, picnic tables, and the requisite bib.
In this most authentic experience, you'll be presented with a bright red lobster steamed to perfection. Served whole in its shell, with clarified butter on the side, the process requires a few essential tools to gain access to the succulent meat inside. Hence the need for a lobster or nut cracker, a small metal pick, and in some instances, a rolling pin.
One of the quintessential Maine lobster presentations, however, is the lobster roll. There are two ideologies when it comes to the perfect Maine lobster roll. The first is the cold roll. In this version, chunks of lobster meat are dressed ever so lightly in mayonnaise and served in a hot dog bun that has been grilled with butter on the outside to a golden brown. It's okay to add a bit of finely chopped celery, but nothing else. Nothing; no onion, garlic powder, or any other unnecessary ingredients. And please don't replace the bun with a sub roll, croissant, or other pretentious bread offering. In fact, the hot dog bun should be in the classic New England tradition, sliced open on top, not along the side.
The second version is the hot lobster roll. Again the New England hot dog bun, filled with fresh-picked lobster meat. But instead of mayonnaise, a warm cup of butter joins the plate for dipping or drenching to your heart's content.
But enough about lobster lore. Let's get down to where to find the best lobster in Mid-coast Maine. Pemaquid Seafood Restaurant in New Harbor, Maine and Muscongus Bay Lobster in Round Pound are among the favorites in our neck of the woods. But you'll find a whole host of options in the neighboring villages of Damariscotta, Georgetown, and New Harbor.
Check out our blog on "Where to Find the Best Maine Lobster" depending on where you are and the ambiance you seek. In the meantime, start wowing your friends with your new lobster knowledge. And check back here from time to time for more ideas on where to dine and what to do while visiting us in Mid-coast Maine.