One of the best ways to enjoy the beautiful summer weather in Maine is with one of the many hikes in Mid-Coast Maine. From scenic vistas to coastal waterways and remote islands, Mid-Coast Maine has many options for exploring the scenic coastline. So, grab your hiking boots and hit the trails with these 5 coastal hikes in Mid-Coast Maine.
Monhegan Island
Found 12 miles offshore, Monhegan Island is a true local treasure with its plethora of natural beauty. Spanning ¾ of a mile wide and 1 ½ mile long, it's an outdoor haven for those looking to explore Maine's unique beauty. With 17 miles of trails, visitors are met with endless ocean views, varying topography, and migrating birds – ideal for bird watching. Beyond the bountiful hiking trails, the island is also home to several art galleries shops, and cafes. Monhegan Island makes a great day trip from Newcastle Inn.
Damariscove Island
The Damariscove is an uninhabited island about five nautical miles off the coast at the mouth of the Damariscotta River. The island is a quarter of a mile wide and two miles long where visitors can admire local wildlife, coastal tundra vegetation, and miles of coastal views. Five miles of hiking trails offer just enough to get out and explore without overdoing it. Other activities enjoyed including picnicking, tidepooling, and a visit to the historic museum make for a great day exploring midcoast Maine's coastal islands.
Camden Hills State Park
Spanning 5,710 acres, Camden Hills State Park is a recreation area that overlooks Penobscot Bay in the town of Camden. Abundant with breathtaking views and an extensive trail system, this park offers some of the best hikes in midcoast Maine. Give your lungs a workout and head to the top of Mount Battie for spectacular views of Camden, Penobscot Bay, and surrounding islands. Or hike to the highest peak on the mainland and of the Camden Hills – Mt. Megunticook.
Salt Bay Heritage Trail
Observe remnants of ancient coastal Maine settlements along the Salt Bay Heritage Trail. A three-mile loop guides hikers along beautiful coastal waterways, eventually leading to a fascinating archaeological site called the Glidden Midden. Be sure to visit at low tide so the boardwalk and bridges are above water. To cap off the day head to the local King Eider's Pub for some Damariscotta River oysters and a refreshing craft beer.
Hiking at Pemaquid Point
Managed by the Pemaquid Watershed Association, there are 9 miles of trails that provide access to 2.5 miles of shorefront that provide scenic views and recreational opportunities. Visit here for more on the preserves and trails located in the Damariscotta region.
Rest and relax at Newcastle Inn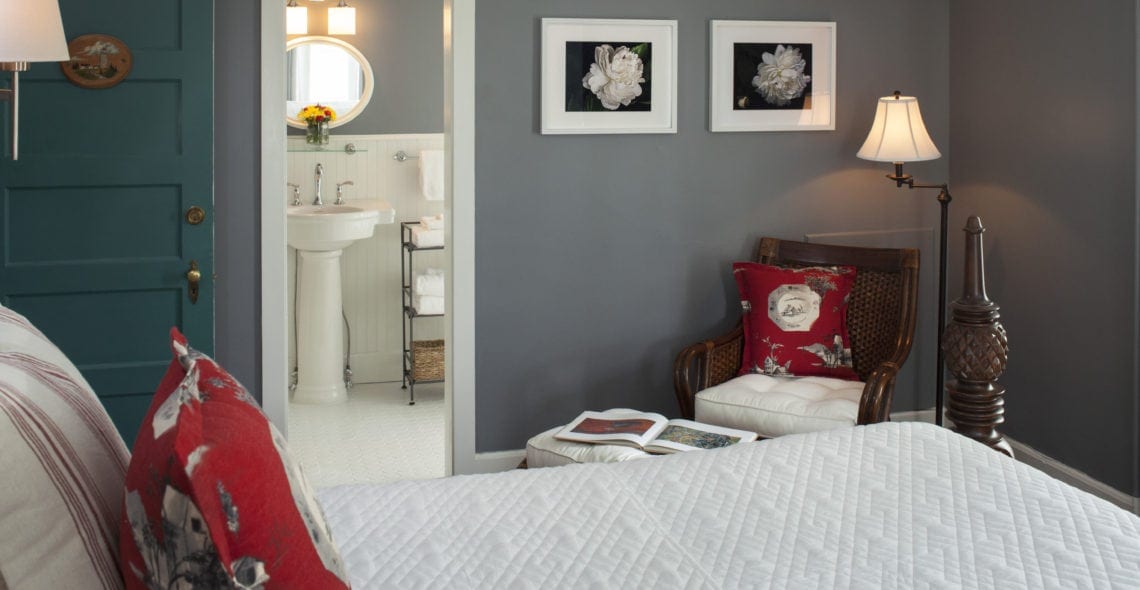 Rest and relax at Newcastle Inn after a full day of exploring these hikes in midcoast Maine. Nestled within the beautiful Damariscotta Region, our charming bed and breakfast is the perfect oasis for some peace and quiet. Yet our proximity to nearby Boothbay Harbor, Monhegan Island, and Camden make us a great home base for exploring all of what midcoast Maine has to offer. So browse our accommodations and discover for yourself an unforgettable Maine vacation.